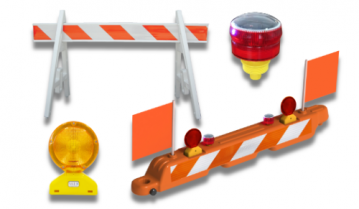 A-Frame Barricades:
Our lightweight A-Frame Barricades are made from high quality plastic materials and are lightweight for easy relocation in crowd control situations. The legs can also be filled with sand for greater stability. The A-Frames come with 6′, 8′, or 10′ boards, and have High Intensity Prismatic Striping on both sides.
Type II Barricades:
Our Type II barricades are made of all plastic to eliminate rust and no painting is required. The solid wall design is molded in one piece for high impact resistance. The barricades are designed for easy installation of barricade lights.
Lo-Pro Airport Barricades:
Our Lo-Pro Airport Barricades are molded with reinforcing ribs for improved strength. The barricade design with connectors molded into the barricade allows for interlocking connection, with no pins to lose. Lo-Pro barricades come in two colours with high intensity prismatic striping, and accept two types of barricade lights.