Delineator Posts and Bases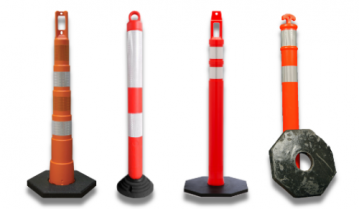 Delineator Posts:
Our SSI Premium Series Delineators are made from premium low density polyethylene material for maximum durability, and contain UV stabilizers providing a longer, fade-resistant product life. We carry a variety of different post designs, with posts striped with high intensity prismatic sheeting for excellent visibility.
Delineator Bases:
SSI Delineator bases come in both 12 lb. and 15 lb. sizes, and are made from 100% recycled rubber. The bases are extremely durable in a variety of weather conditions.
Stackable Delineator Posts:
SSI also carries Stackable Delineator posts, made from high quality materials for excellent durability. The bases for these posts come in 16 lb. size.
Flexible Delineator Posts:
SSI's Flexible Delineator Posts are 46″ high, and are made from high quality LDPE material. The posts contain UV stabilizers providing excellent fade resistance. Great for use in parking and other situations where post flexibility is desirable.