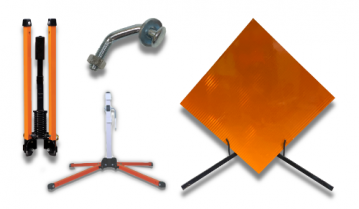 Sign Stands:
At SSI, we offer a variety of sign stand options, designed to accommodate roll-up, aluminum, medium density overlay, plywood, plastic and laminate signage. The stands come in single spring, dual spring, or tripod models. The spring models are designed for high stability and resistance to wind gusts.
Sign Posts and Mounting Hardware:
SSI carries significant inventory of sign posts, bases, and associated mounting hardware for a variety of sign installation options. This allows our sign shop to be a "one stop shop" for customers purchasing signs by providing a complete solution including all items required for installation.