SSI Premium Series Traffic Barrels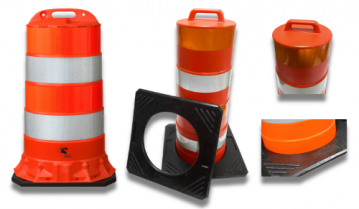 Traffic Barrels:
Our SSI Premium Series Traffic Barrels are manufactured out of high quality low density and high density polyethylene material which contain UV stabilizers providing a longer, fade-resistant product life. Both the 36″ and 44″ barrels come complete with moulded grab handles and high intensity prismatic reflective striping.
Barrel Base:
The Barrel Base for the 36″ barrel is an 18 lb. base, and is made from 100% recycled rubber. The 44″ barrels utilize a standard tire ring base, with a weight of 24 lbs.