Traffic Cones and Accessories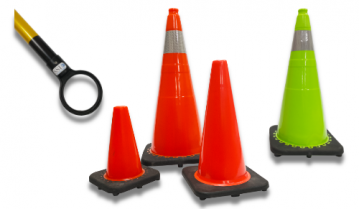 Traffic Cones:
Our SSI Premium Series Traffic Cones come in 12″, 18″, and 28″ heights, and are made from premium PVC material. These cones have an injected interlocking base that is extremely durable, reducing the possibility of base separation.
The PVC material formulation contains UV stabilizers to provide a longer, fade-resistant product life, and are specially formulated for improved performance during the winter months., A variety of High Intensity Prismatic striping options are available.
Cone Bars:
Our SSI Retractable Cone Bars are made from high grade materials, and contain UV stabilizers to improve resistance from fading. These cones bars come in a short (4′-7′) length, or a longer (6′-10′) length.